I am an ass man. I always have been. I even know why. My best friend when I was growing up had a 12" of Queen's Fat Bottom Girls and the picture on the cover ruined me for life. I am all about the ass and Mrs. Peg's is fantastic.
Ass man or not, October is Breast Cancer Awareness Month and that means it is time to pay a little extra special attention to the Ta-Tas. Really, regular attention should be paid through self breast exams, but when October rolls around, the world turn pink in an effort to shine a light on a horrible disease that steals our wives, mothers, and daughters.
EdenFantasys
is running two promotions this month in support of Breast Cancer Awareness. Click on over and do your part to support the cause.
The first promotion is in conjunction with
Evolved Sex Toys
. Right now through the end of October, you can save 25% off all Evolved products. However, when you buy a pink one, a portion of the proceeds will go to support the Save the Ta-Tas Foundation.
The second promotion is for gift basket worth $500, a $100 gift card, or a $50 gift card. All you need to do to for a chance to win one of these great prizes is enter the
Show Your Ta-Tas Some Love!
contest. Full details are available
here
. You can see other people's entries on EdenTube
here
. I can't say I enjoy these, but they touch my heart.

So here is the deal we are offering….I get a little something back every time someone visits
EdenFantasys
and uses affiliate code SMK during checkout. They get 15% off non-sale items and I get 5%....pretty standard
affiliate program
terms. We will donate ALL commissions earned on sales through EdenFantasys.com during the month of October to the
Save The Ta-Tas Foundation
! So click on over the EdenFantasys and buy a pink
Evolved
Sex Toy. When you do, enter affiliate code SMK during checkout. You will get your toy for 25% off, plus EdenFantasys will give a portion of that sale to Save The TaTas. Then, any commission I earn will also go to Save The TaTas. You get a great toy at great price AND you are doing a little bit to generate more donations to an outstanding Breast Cancer Awareness charity . Talk about Win-Win-Win!!
Go ahead, show your ta-tas some love….after all, they are close to your heart!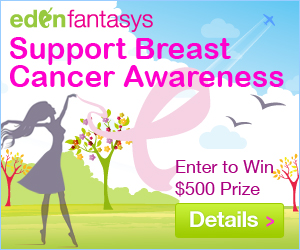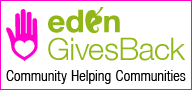 ***Pegging is the sexual act of a woman using a strapon dildo to anally penetrate her male partner.***