I used to travel….a LOT! Mrs. Peg got me a full set of Fleshlights before I went on a particularly long series of trips that would have us apart for weeks at a time. I credit my Fleshlight Lady, Fleshlight Butt, and Fleshlight Mouth with preserving, at the very least, my sanity during those long trips. A well-lubed Lady is the next best thing to the real thing as far as I was concerned. However, in those days I used to have to stack pillows up on the bed, jam the case between the mattresses, or nestle the toy between some couch cushions.
We still have cause to play with our Fleshlights, but these days we use our Motion Dog Day mount to hold the case. Mrs. Peg and I like to me fuck one of the inserts while she fucks me with a strapon. This mount has allowed us to play out some wonderful fantasies without the hassle of trying to negotiate having someone join us in the bedroom.
If you are interested in exploring some similar fantasies, or just having a sturdy, well-built mount and a Fleshlight to sink your cock into, now is your chance. Our good friends at EdenFantasys are currently offering a 25% discount when you buy a Fleshlight along with the Motion Dog Days Mount. Purchased together, you can expect to save about $40 during this sale. Of course they have tons of other sex toys to choose from too. Click on over and check out all that is EdenFantasys!


Check out our review of the Motion Dog Days HERE.









The great thing about this sale is you aren't limited to any one particular Fleshlight. You can pick one of the standard forms like the Mouth, the Butt, the Pure, or my favorite, the Lady. You can also get the Ice versions. More importantly, however, you can pick one of the Fleshlight Girls versions. If you have ever fantasized about sinking your cock into Stoya's beautiful pussy, here's your chance!
Whichever one you choose, have fun and play safely!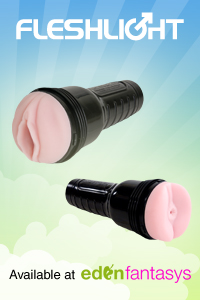 ***Pegging is the sexual act of a woman using a strapon dildo to anally penetrate her male partner.***