[caption id="attachment_500" align="aligncenter" width="300" caption="HOTNESS!"]
[/caption]





A few weeks back we posted a review of the
Theo
harness by SpareParts Hardwear. Considering that the Theo has been our pegging harness of choice lately, we figured it was worth another mention.
A few key updates on our first review: 1) The Theo has gotten better with age. That is to say, wearing this harness makes it more comfortable. The rather thick thong-style strap is no longer a distraction to Mrs. Peg. 2) The Theo is holding up extremely well to wear and, thankfully, no tear. We love the fact that this harness is washable which is a huge improvement over a leather harness. As noted, Mrs. Peg is fond of the thong-style harness. Once the juices get flowing that strap needs to be cleaned. Leather harnesses can't just be thrown in the washing machine afterwards. Theo can, and he does and he is really none the worse for the wear. Just be careful what you wash it with and that you secure the Velcro straps before tossing it in. (Because Theo is washable it can also be worn in the shower; another HUGE advantage over leather!)
We also noticed that the Theo is a little harder to find than SpareParts other hip harness, the Jogue. Fortunately our good friends at
EdenFantasys
carry this wonderful harness. We have posted a few nice words about the Theo harness there as well, so please take a moment to read our review. We are known to the Eden Community as Mr. & Mrs. Peg.
Have fun and enjoy!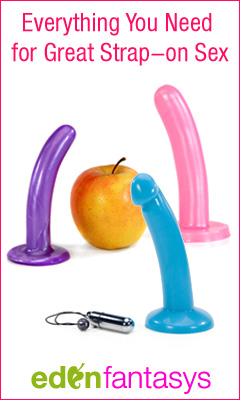 We are incredibly grateful to SpareParts HardWear for sending us the Theo to play with. That being said, these are still our honest and heartfelt feelings on the Theo. Our integrity is worth way more than the stuff we get for free ;)!
***Pegging is the sexual act of a woman using a strapon dildo to anally penetrate her male partner.***